I'm glad February was a short month because I'm so ready to move on into March. For some time now Chinese New Year has been a difficult time due to family health issues. And of course, like Christmas, it's a strong reminder of those no longer with us. But it's been...
Gong Xi Fa Cai and Welcome to the Year of the Earth Dog! Most of us will be glad to move on from the super-energetic, somewhat chaotic Year of the Rooster. (If you believe such things... and even if you don't, you're probably ready to move on) The qualities of a Dog...
Aunty Lee is Back!
Aunty Lee makes her fourth appearance in "Meddling and Murder" !
From Harper Collins: A delightfully warm and witty mystery from one of Singapore's best-known and most acclaimed writers…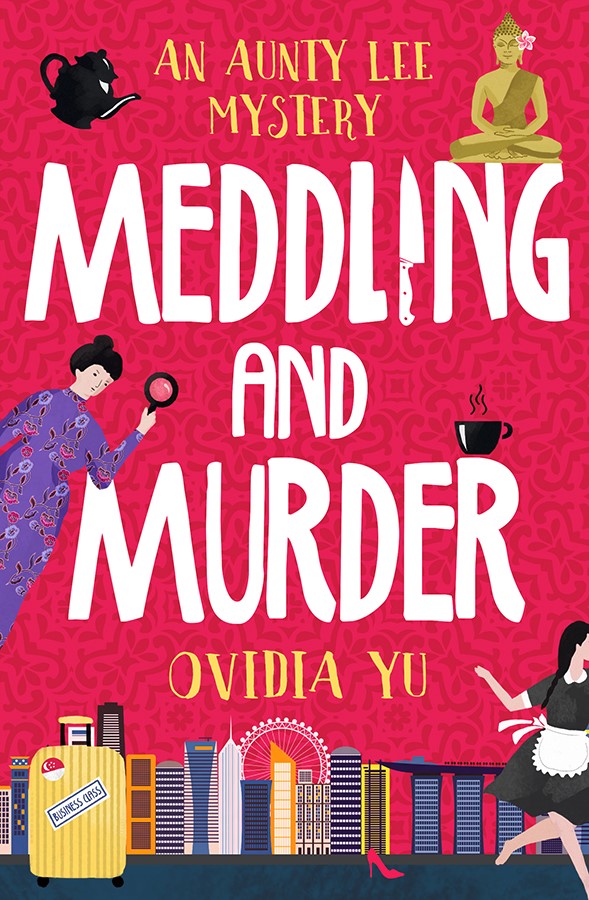 NEWS
"M
eddling and Murder" An Aunty Lee Mystery has been published by Harper Collins, UK!
---
2
017 will see Ovidia's first steps into British publishing. Given her love of mysteries started with Agatha Christie, this feels very special indeed.
---
T
he Frangipani Tree Mystery, first in Ovidia's new Crown Colony Crime series set in pre-World War II Singapore, will be published by Constable in June.
Plus I've just got my author copies on the next book and I'm almost too distracted to be thrilled. Almost. I am thrilled. Just too tired to jump up and down!
We're moving on to the next stage of living with Covid, starting today! And by complete coincidence it's our 35th Wedding Anniversary! But just like the weather just switched from blazingly bright and hot to dark and stormy--but if we're alive we can adapt and...
We had a photoshoot for Kwa Geok Choo at the Marina Barrage this week. I'm really getting pretty excited about the possibilities of this piece. We're all increasingly aware of how fragile things are--like taking for granted our clean water and skies free of enemy...