By Ovidia Yu
Aunty Lee's Deadly Specials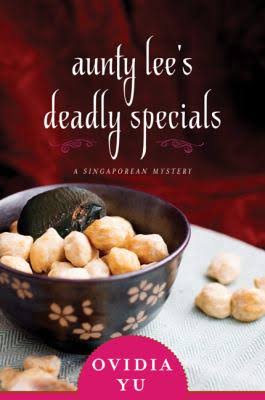 By Ovidia Yu
Aunty Lee's Deadly Specials
Rosie "Aunty" Lee, the feisty widow, amateur sleuth, and proprietor of Singapore's best-loved home cooking restaurant, is back in another delectable, witty mystery involving scandal and murder among the city's elite.
"Few know more about what goes on in Singapore than Aunty Lee. When a scandal over illegal organ donation involving prominent citizens makes news, she already has a list of suspects. There's no time to snoop, though—Aunty Lee's Delights is catering a brunch for local socialites Henry and Mabel Sung at their opulent house.
Rumor has it that the Sung's fortune is in trouble, and Aunty Lee wonders if the gossip is true. But soon after arriving at the Sung's house, her curiosity turns to suspicion. Why is a storage house she discovers locked? What is the couple arguing about behind closed doors? Where is the guest of honor who never showed up?
Read More
Then, Mabel Sung and her son Leonard are found dead. The authorities blame it on Aunty Lee's special stewed chicken with buah keluak, a local black nut that can be poisonous if cooked improperly. Aunty Lee has never carelessly prepared a dish. She's certain the deaths are murder—and that they're somehow linked to the organ donor scandal.
To save her business and her reputation, she's got to prove it—and unmask a dangerous killer whose next victim may just be Aunty Lee."
'…I like them even more when set somewhere that isn't UK or USA as it gives you the chance to see some of the customs, charms (and not so charming) elements of places you may never get to see….'
–
Kirsty White
'Engaging . . . Fans of Alexander McCall Smith's No.1 Ladies" Detective Agency series will find a lot to like'
– Publishers Weekly