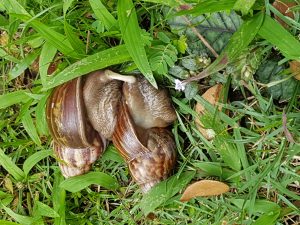 I love snails. Beautiful creatures with their hard but-oh-so-easily crushed shells. Snail mate! (Sorry, had to say it) In a patch of (I think) button weed. I love those little purple flowers too.
And here's another delicate little land snail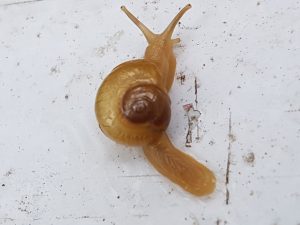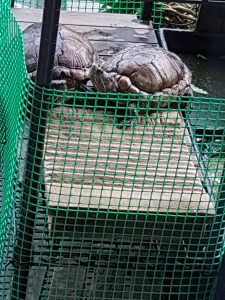 In the meantime, the turtles have a revamped sunning deck!
---
Reading: Ken Liu's Paper Menagerie and G.S. Denning's Warlock Holmes
Writing: I'm wading through the edits of Betel Red… seem to spend hours writing and rewriting the same three or four paragraphs cutting down the bumpf. Can't believe how easily I go off track and how far off track I go… best to keep clear of me for now. Things are messy and getting messier. Thank goodness for chocolate—Ritter Sport Hazelnut Dark Chocolate in particular.
It's difficult to focus on writing mysteries when the news coming in is so much crazier than anything I could invent. But I remind myself getting upset on social media doesn't help. If only I were a lawyer or a political leader or a billionaire maybe I could make a difference now. Instead I'm going to try to write the best stories I can for now. And continue to be grateful for each day, each hour and each breath.