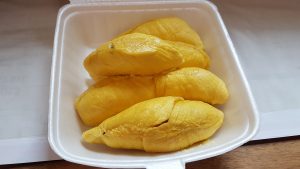 Blood test day. Not my favourite day of the month. Treated myself to durian from Uncle Lee as a reward 🙂
Writing: I'm about half way through the Aunty Lee 5 outline. Having fun with it, but I keep getting characters mixed up. Was it Cherril or Selina who got pregnant at the end of the last book?
And I'm still polishing/ tidying/ cutting/ pasting/ generally fussing with Betel Red. I could go on doing this forever, but I've promised myself I'll send it in once I've worked out some wretched tangles that I just put in. I spent most of today's writing time on one page and now I'm wondering whether it was better the way it was before.
Reading: Just finished Reacher said Nothing by Andy Martin. Enjoyed looking over Lee Child's shoulder as he writes Make Me. Also loved how he discovers what's happening in his books much as we do while reading it. And read Evil and the Mask by Fuminori Nakamura. I found it gripping but strange. Beautiful writing. Have to think about it for a while.
I got a mention in a Straits Times article on Singapore writers (and publishers, thanks Epigram!) reaching beyond Singapore. Surprised they didn't speak to Kevin Kwan and Cheryl Tan who are the ones really making waves outside Singapore right now!