Biar putih tulang, jangan putih mata
— death before dishonour
When 13,000 Japanese troops landed in North-West Singapore, Lieutenant Adnan Saidi and 1,400 Malay Regiment soldiers held them off for two days without back up or supplies in the Battle of Opium Hill.
When their ammunition was gone they engaged in hand to hand combat till they were defeated.
In revenge, the Japanese hung Lt Adnan by his legs from a tree and slashed him with bayonets till he died. This was Feb 14 1942.
The British surrendered Singapore the next day.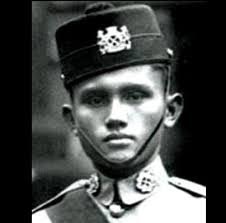 Sorry if you were looking for something romantic!
Reading: The Sleeping Dictionary by Sujata Massey. It's awesome so far.
Writing: Still making my way through the second draft of Betel Red. It feels slow, but at least I'm still moving! And I'm really enjoying the writing discussions in the Masterclass group.
High points: Durians are back in town! I thought this season was over, but I had some specials from Segamat yesterday and the doglets had their second acupuncture session. Hermione seems to be walking better and Princess is blitzing again!