Came down with a nasty cold on Sunday and gave myself 3 days MC.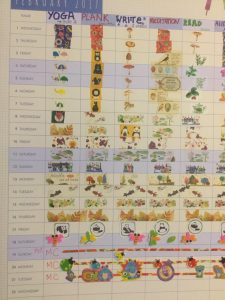 This is my incentive calendar. Gave myself an MC tape through my sick days so my chain doesn't get broken!
I only had one day of being really sick, then two days of functioning but feeling totally miserable. This feels really strange because though I know the bug is temporary and will pass, the misery makes me want to sit and wail and moan and guilt myself for getting sick.
That's where the calendar came in useful–I wouldn't have done any yoga at all if it wasn't for wanting my 'minimum done' yoga sticker!
Think that's childish? I've been reading Lemony Snicket and Oishinbo and Agatha Raisin while eating ice cream (super for painfully sore throats–not so good for the rest of my lactose intolerant self) and watching Big Bang Theory.
So grateful for good health the rest of the time and wishing everyone good health all the time!