NEXGIM Smart Exercise Bike review
This is a great bike for anyone interested in getting safe but fun exercise!
Speaking as someone almost 60 years old, outdoor cycling in Singapore weather with Singapore traffic isn't the greatest. And with Covid around, I'm not comfortable in a gym or swimming pool or exercise group.
I needed a safe, fun way to get regular cardio exercise.
I wanted to try Zwift, hoping the gaming aspect would keep me motivated. And for that I needed to get an AI bike. It was on the Zwift forums that I came across the NEXGIM Smart Exercise Bike.
First off, let me admit I had reservations about the Nexgim Smart Exercise Bike.
I'd been eyeing the Stages Smart trainer (at £2700 a bit expensive!) How could a bike listed at under S$600 compete? And how easy would it be to pair it with Zwift?
But I thought it couldn't hurt to try.
Summing up, it's:
easy to assemble
easy to use—it paired itself with Zwift
doesn't take up too much room
The box comes with a warranty card included with the bike, with a QR code which takes you to an online manual with full assembly instructions. But by the time I learned this, the bike was already assembled—yes, it was that easy and obvious!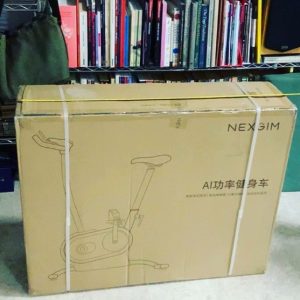 All the pieces are marked with directions like front/ back and left/ right and instructions to align the arrows when setting up the (height adjustable) seat. All the tools and screws needed are included.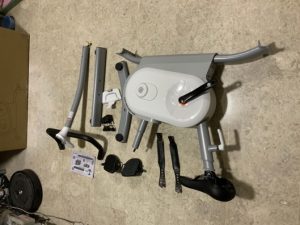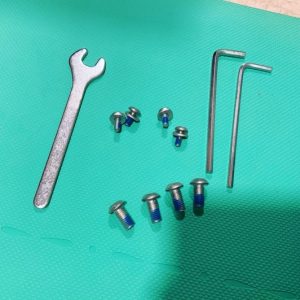 The first thing some of my friends asked was how much space the bike takes up. My answer is: less than one yoga mat.
I put it on a yoga mat facing the television and it doesn't take up much more space than an office chair on wheels moving backwards and forwards to a desk.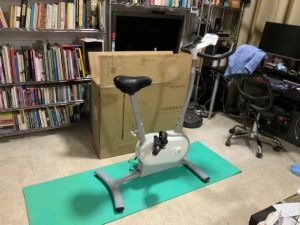 And the pedals and seats are replaceable. I've already added a broader and more padded seat. And my husband's talking about switching the pedals to clipless pedals like the pro cyclists use.
In addition to the iPad or screen holder that comes with the bike, there's lots of space for an additional phone holder which we've just installed.
Best of all: Once the Zwift app turned on, everything connected automatically via Bluetooth! The bike allows Zwift to control it and adjust degree of difficulty to suit different individual riders. In Zwift-parlance, this is a "Controlled Device" that transmits both Power and Cadence.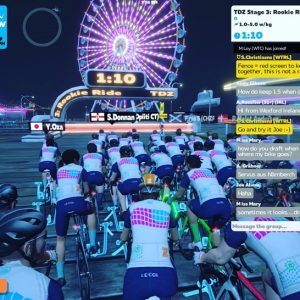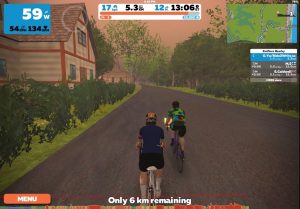 I encountered no problems connecting this smart trainer to Zwift. So far Zwift and the Nexgim bike work together seamlessly to adjust difficulty levels to simulate mountain climbing vs descending, drafting behind another rider or riding on cobbles. And the bike allows me to shift 'gears' up and down to adapt to the changing difficulty.
And it's Huge fun!
I'd say it's a worthwhile health investment these days, when exercising outdoors or around other people isn't safe–and the risks of not exercising are almost as bad.
Indoor biking on the Nexgim smart bike might be the solution that keeps me healthy through the pandemic!
Link to the Singapore dealer: NEXGIM MG-03 Exercise Bike